Well, because I love the
Little Comet Tails
patterns, I decided to try the
Spin Around Dress
. This dress is so adorable, the pattern is a FREE downloadable PDF and I found it very easy to follow, which is great seeing as I've only recently started to sew clothing! Gotta love step by step photo tutorials!
Anyway, back to the story. My daughter has slimmed down a lot in the past few months as she seems to be more focused on growing taller for the time being. She's in 18mths...mostly for the length and hiney ;) ... and yet I keep making her 2T clothing...I really need to stop doing this, lol! It fits well enough, but there is no spinning around in this dress for her...YET!!!!
As you'll see from the photos below it's ADORABLE but looks like a pencil dress from the front! And once she turns around you can see how much wider the dress is than her by how much it's cinched in in the back! When it was untied I used my hands to see how much excess fabric there was on my slim-bean and I could literally cinch it in about 4 inches (2" in the front and 2" in the back from under the arms) on each side! But thanks to the lovely sash she CAN wear this now and look super cute and she'll be able to grow into it and wear it for a long time to come! I can see many more of these dresses in my future for Mia and as presents for all the little girlie's around me! Thanks for another great pattern Samantha!
Don't you just love the sweetheart neckline - super easy btw!
See how much is cinched in in the back? But it looks great like that doesn't it?!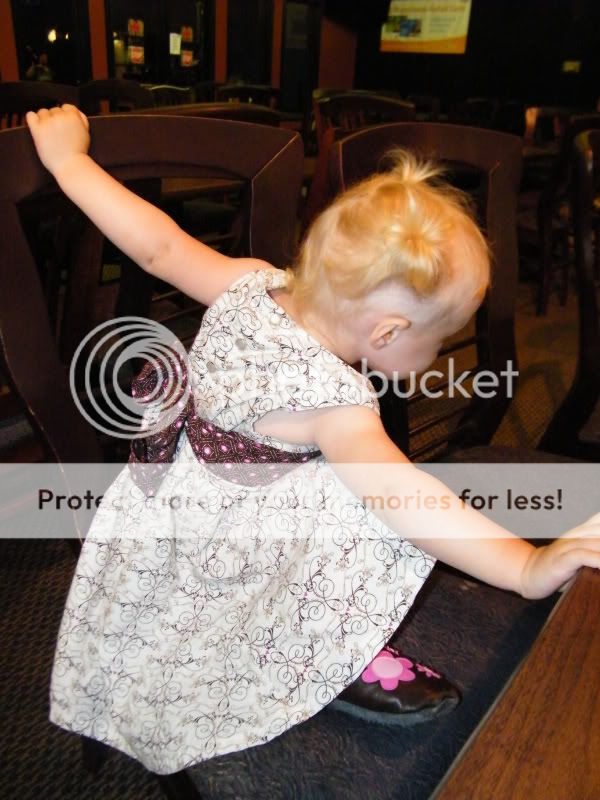 Curious about the shoes? Sorry I don't have a better pic of them right now. I bought them from
Bunnyfeet Boutique on Hyena Cart
! She is a member of "The Wading Pool" congo. Megan is great, has excellent customer service, is super talented and has a FAST turn around time! Highly recommended!
Please let me say this though:
There is NOTHING wrong with the sizing of this pattern or the fit of it, I simply assumed she was big enough for it and she wasn't really! She is tall but super slim right now and I keep forgetting that! ;)